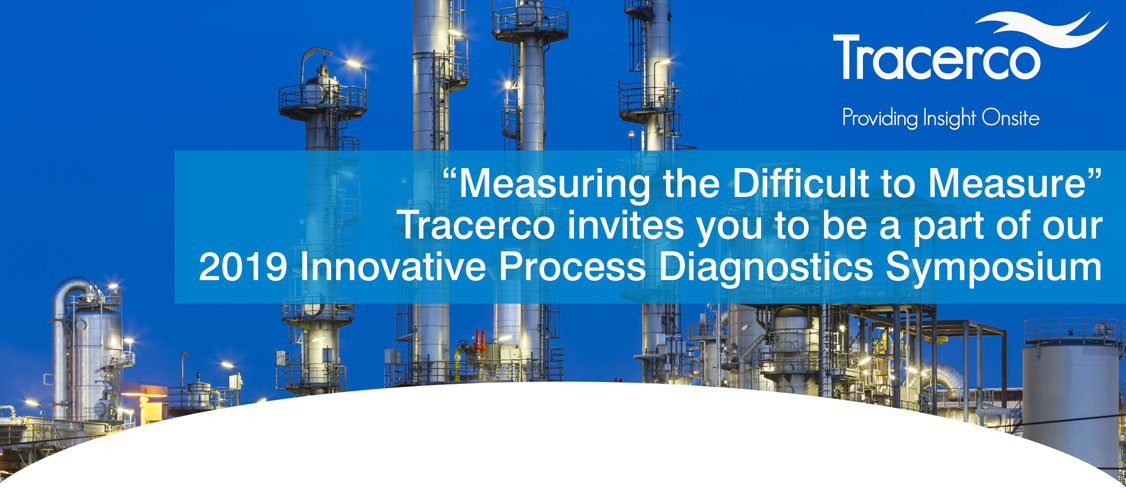 Save the date...
Register to attend Tracerco's 2019 Innovative Process Diagnostics Symposium
February 5, 2019 in Deer Park, Texas, USA - 8:00 am - 3:30 pm
February 20 in Gonzales, Louisiana, USA - 8:00 am - 3:30 pm
Learn from our team of experts how Tracerco's Process Diagnostic technologies can be applied to help improve plant operations in your

facility. This symposium is designed to give refinery and chemical process personnel an understanding of how our products and services can be used to diagnose critical process issues. The symposium contains in-depth case studies illustrating how data obtained from our gamma scanning, nucleonic instruments and tracer technologies can be applied to help troubleshoot and resolve process plant problems.
At the end of the symposium, Tracerco's panel of experts will host a Q&A session discussing the latest industry challenges and how to measure the difficult to measure process issues.
Read more to learn about the session topics and download a copy of the invitation.
Session topics include:
Troubleshoot and diagnose hydraulic conditions within trayed and packed towers

Locate leaks no matter how small
A complete understanding of flows throughout the entire facility
The diagnostic tools to look inside FCC's and optimize performance
Take control of your process using fixed density measurement gauges
Q&A Panel discussion - Challenge Us, we encourage you to bring questions and problem situations for discussion with our panel of experts.
Click the links below to download a copy of the symposium invitation for additional details. Please register by January 14, 2019
Click here to download the invite - Deer Park, Texas, USA location - Battleground Golf Course, Sycamore Room, February 5, 2019
Click here to download the invite - Gonzales, Louisiana, USA location - Clarion Inn & Conference Center Gonzales, Ascension/St. James Rooms, February 20, 2019
For questions concerning the symposium email margaret.bletsch@tracerco.com