Diagnose and take control of fouling issues.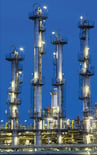 In some processes a common problem that towers experience over a period of time is fouling of trays and packing with solid deposits. Fouling can cause conditions such as liquid maldistribution in packed columns or premature entrainment/flooding in trayed columns resulting in a loss of efficiency and an increase in operating pressure drop. Fouling may result from foreign material entering a column or from polymerization or decomposition occurring inside the column. The fouling may start under normal conditions or begin to build due to abnormal operating conditions.
Read more on how Tracerco scanning technologies can help to develop a plan to implement a routine maintenance programme for assets with fouling issues.