Tru-Scan™ results assist with diagnosing problems even in a challenging process such as liquid-liquid extractors.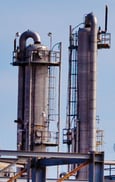 One category of special applications is liquid-liquid extractors. Besides the fact that liquid-liquid extractors are not "typical" distillation or fractionation unit operations, what makes them a special application for Tru-Scans™? The source and detector system that is used in scanning measures density changes of the process materials inside the tower. With a typical fractionation tower there is a large density difference between the vapour and liquid phases. Thus there is a large density range between clear vapour and clear liquid to detect process or operating conditions existing in a typical fractionation tower – entrainment, foaming, flooding, internal damage, etc. But liquid-liquid extractors are liquid full, with no large vapour-liquid density difference. Meaningful scan results from a liquid-liquid tower rely on the density difference between the two liquid phases being significant enough to distinguish as some extraction processes involve two liquids that have comparable densities.
So what will a Tracerco

Tru-Scan™

of a liquid-liquid
extractor tower show?
Since we do not have the large vapour-liquid density difference to work with, the information learned from a scan of a liquid-liquid extractor is less extensive than for a "typical" fractionation tower but not any less important. As the following examples show, scans of liquid-liquid extractors can detect problems when the two liquid phases are not properly mixing, preventing the tower from doing its proper extraction operation.