Tracerco Diagnostics™ FMI (Flooded Member Inspection) technology has become the industries number one choice for inspecting platform members for water ingress. Over recent years we have seen reduced time for inspection campaigns in order to meet the new financial demands expected from the Oil and Gas Industry. At Tracerco we continue to put an emphasis on successful initial inspections, ensuring that there are no unnecessary delays. This ensures that inspections are right first time and reduces the risk of far greater financial impact which can be associated with repeat inspections, or remedial work that may not even be required.
The FMI system can measure the degree of water ingress into platform structural members indicative of through wall defects without any need to remove marine growth or specialist coatings. It is operable as a simple attachment to any Remotely Operated Vehicle (ROV) or can be manually deployed by a suitably trained diver. A highly focused beam of gamma radiation and an ultra-sensitive detector unit are mounted on opposite forks of a variable yoke system and positioned across the diameter of the member under inspection. The transmitted radiation intensity is measured and compared to the intensity expected for a dry member based upon the particular member's diameter, wall thickness and system calibration. Water inside the member will result in a decrease in the expected "dry member" transmitted signal. Each response is evaluated by our bespoke software and trained Offshore Technicians to provide a full report of platform jacket integrity.
---
1. We are the most experienced
In the 1950s, Tracerco was established as part of ICI. Tracerco, now part of the Process Technologies Division of Johnson Matthey, developed radioisotope technology for diagnosing process plant problems. In the late 1980s a North Sea operator tasked Tracerco with developing a technique for assessing the integrity of Oil & Gas platform jacket members. In 1989 the first FMI utilising gamma scanning technology was carried out on a North Sea platform. Since then our experience and knowledge in FMI has gone from strength to strength as we continue to deploy a vast number of Flooded Member Inspections across all geographical regions including the Gulf of Mexico and West Africa.
2. Our quality of service is second to none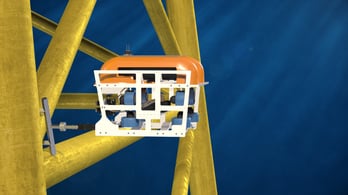 Some of our current specialists were involved with the first North Sea inspections undertaken in the 1980s. The team is passionate about technology and we aim to exceed our customers' expectations in everything we do. Tracerco does not use sub-contractors for any of its inspections. Training is very important and is fundamental to what we do at Tracerco. Experience gained over many years is passed on through this extensive training and development programme. Each technician's competency is assessed in a variety of classroom, practical and on the job training scenarios by our in-house training team. We also have ISO 9001 accreditation which is testament to the hard work we put in to ensure we have world class training, quality and management systems in place.
3. Safety is our number one priority
We have more than 50 years proven experience of safe radiation handling and monitoring. Our competence is recognised worldwide and our team of in-house Radiation Protection Advisors (RPAs) have delivered radiation safety training courses and advice to thousands of people. Our RPS (Radiation Protection Supervisor) training and the ability to deliver the FMI service globally through our contacts with legislative bodies in each country we work in, ensures compliance with all relevant licensing requirements. If necessary, we can also advise on the requirements for checking if third parties have the correct licenses and documentation when bringing radioactive sources on to your platforms or vessels.
4. We get it right first time
The TRACERCO Diagnostics™ FMI system is the only gamma based flooded member inspection technology approved by Lloyd's. It is very important when carrying out FMI surveys that we do not forget the principles of the technique. The scanning technique relies on fixed parameters in order to ensure accurate measurement of degrees of flooding. Tracerco uses a rigid yoke system to enforce the strict scanning geometry required for accurate results. The Lloyds approved method for carrying out FMI surveys is based on keeping the distance between the arm of the FMI yoke constant. Very small changes in this distance can result in errors which in turn could result in incorrect diagnosis of a member's integrity.
---
You can learn more about a Tracerco Diagnostics™ FMI Study here