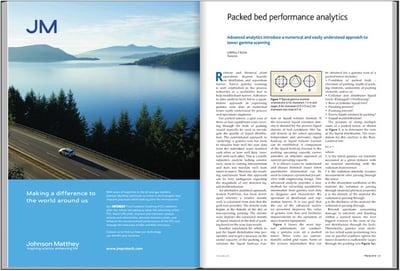 Advanced analytics introduce a numerical and easily understood approach to tower gamma scanning
Refinery and chemical plant operations depend heavily on distillation and separation towers. Tower gamma scanning is well established in the process industries as a qualitative tool to help troubleshoot towers. Advances in data analysis have lead to a quantitative approach in expressing gamma scan data in numerical terms easily understood by process and operations engineers.
In a recent Tracerco article published by Petroleum Quarterly Technology (PTQ) magazine you will be able to read three example case studies of packed towers that will answer questions concerning the state of liquid distribution through the packed bed and illustrate how Tracerco's PackView™ analysis was developed to consistently analyse Tru-Grid™ Scan data to reach a conclusive result.
CLICK HERE To read the full article (Page 69) published in the Q2 2018 Petroleum Quarterly Technology (PTQ) issue.
---
---
If you want to learn more about Tracerco, part of Johnson Matthey Plc, technology please complete the form on our contact us page at http://www.tracerco.com/contact-us and request additional Tru-Grid™ Scan case studies. If you have any questions concerning this article please completed the form shown below this blog.