Tracerco is tailoring our offering to meet the needs and challenges of our customers with five brand new tracer labs to analyse reservoir samples.
The driver for any innovation of technology or service at Tracerco is always customer needs. With increased restrictions on sample export making it very difficult, or even impossible in some cases for customers to use tracers for reservoir analysis, it was time for Tracerco to expand their tracer lab portfolio with three new labs plus an additional unique offshore mobile lab equipped for on on-site use, bringing the analysis directly to the customer.
The mobile tracer lab for offshore projects is built to DNV 2.7 Zone 2 standard and is fully pressurised and able to integrate with safety systems on the rigs. We can expect it to be used offshore on any inflow project where on site analysis has been requested. This will allow oil companies to make quicker decisions on-site due to instant analysis. They can then make changes to wells immediately to optimise well strategy especially in the areas of subsea clean out and water ingress.
The three other labs will be located in Saudi Arabia, Russia, and Australia.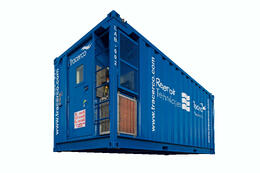 Tracerco is the only reservoir tracing company who provide tracer technology across the spectrum of applications from near wellbore, to interwell and in unconventional oil and gas applications (fracking) with all global labs equipped to handle the analyses for each of these applications.
The labs are capable of handling up to 100 samples a day each with 24 hour operation.
Previously, when this option was unavailable the market faced the challenge of time consuming and complicated export procedures or being unable to conduct the work at all. Ultimately in-country analyses from Tracerco, for the first time, will allow those markets where sample transport and turnaround times are prohibitive, the option to carry out regional tracer analysis providing invaluable insight into reservoir fluid and gas flow.
Turnaround time for analysis is also greatly reduced allowing for a safer and more efficient service; reducing from a number of weeks for sample exportation, to a matter of hours with a lab in-country.
Bringing the lab to the customers allows rapid analyses thus providing the option to react instantly by optimising well strategy and in turn, gaining the best results from their reservoirs. Ultimately Tracerco work to partner with their customers in overcoming the challenges they face. Book a lunch and learn to find out more.