---
In this blog post we will highlight and discuss the top five questions we are asked with regard to our controlled release tracer technology.
---
1. Do you see a correlation when comparing the tracer data to a PLT?
The technology is usually used in situations where a PLT is not planned to be used.
We are currently working with a major operator to compare transient, decline curve and water cut data analysis in both a full scale flow loop and with a PLT in a candidate well. It is expected that this will be completed within the next 6 months. It is our intention to publish data when available.
2. Is there an effect of these tracers when used with artificial lift systems? (i.e. rod lift, gas lift, ESP, PCP, jet pump)?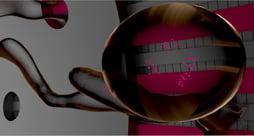 The use of a lift system has no effect on the tracer performance within the lower completion. In fact, many applications of tracers are used where an artificial lift system prevents the use of a PLT due to restrictions within the wellbore.
When using gas or water jet pump systems it is important when using the transient analysis technology to correct for the increased velocity in the upper completion due to free gas or water flow. Tracerco's in-house software allows this factor to be input.
It is also important when using water tracers that the added dilution factor of the jet pump water is taken into consideration when designing tracer release rates in order that adequate concentration of tracer is detectable at surface.
3. What about using the technology for unconventional wells?
The technology can be used in the case of unconventional wells and indeed Tracerco has used it during multistage long horizontal well hydraulic fracturing activities.
The biggest challenge to use in unconventional wells is the lower completion design. In many cases the lower completion is plug and perf using cemented liners. Tracerco does have a solution for cemented liner completions but there are some requirements during drilling that require to be accomplished.
If using fracport completion with packers in an open hole then Tracerco has specific tracer carrier tools that can be positioned at each side of the fracport that can contain oil, water or a combination of both tracer types. A different type is used at each frac port or we can even use different types within one packed zone to differentiate flow from either side the fracport. In the case of oil flow, Tracerco will use the transient and decline curve method for quantification of flow. In the case of water, we will compare water cut by assessing water tracer concentration in returning water at surface.
4. Can the tracer be used for gas breakthrough study? Do you have gas phase tracer as well?
The current tracer technology has been developed for use when contacted by oil or water. Tracerco does not currently have a gas application. The water based tracer technology has been used in gas producing fields to determine the positional inflow of water in order that suitable water shut off activities can be accomplished to maximize gas production. Oil tracers can be used in situations where condensate flows alongside the gas from within the formation. Tracerco has been requested by several customers for a gas version of this technology and we are currently working with our Research and Development staff to establish feasibility.
5. What is the maximum longevity of tracer down hole? How often do we need to replace the tracer?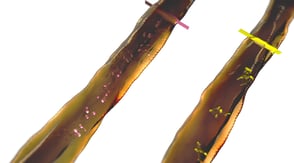 The maximum longevity of tracer down hole is dependent upon the reservoir temperature, the lower completion used, the fluid properties and the flow rate from the well. If the temperature is relatively low, the lower completion used can accommodate large amounts of polymer / tracer, the oil API is not too high or low and the flow rate is low then the tracers can last typically up to 10 years. However, if the reservoir temperature is high, lower completion cannot accommodate amounts of polymer / tracer, the oil is high or very low API and the flow rate is high then the tracers may only last between 6 months and 3 years once triggered for release by the target fluid. Each project is designed taking into consideration all of the above factors and a lifetime estimate provided as part of our technical proposal. The Tracerco Reservoir R&D team is currently evaluating additional technology options to enable the controlled release of tracers which will extend the overall product lifetime.
As the polymer / tracer is positioned within the lower completion before it is run in hole at the start of well production it is not usual to replace tracers as it would involve the pulling of the lower completion and re-running in hole. An alternative to pulling the lower completion in some completion types is to use a number of wire-line or coiled tubing conveyed hanger tools positioned at strategic locations along the inner production tubing.
You can download the full list of questions and answers from our webcast on cost effective fluid inflow measurement without wires or well intervention here
---
---