---
It is common in many oil refineries, chemical, ethanol and ammonia plants, for critical process equipment to experience problems. Issues in trayed towers such as internal tray damage, missing trays, plugged downcomers and tray foaming can all lead to off-spec production and in some cases, un-anticipated shutdowns. Scanning technology can help you avoid these scenarios by providing you with an assessment of your operating conditions, whilst your process equipment remains online. In this blog post we will feature the top three questions we are asked with regard to Trayed Towers and our Tru-Scan™ technology.
---
1. A Tower Tru-Scan™. What does it do?
A Tru-Scan™ of a trayed tower provides a density profile of the process inside the tower. The power of the technology is that the scan is done while the tower is operating so real-time information is obtained about how the tower is performing. The scan "sees through" the vessel wall allowing a determination of what is happening inside without the need to shut down. The scan results in a density profile of the internal process, provides detailed information about the hydraulic performance of the trays. With the scan, data diagnosis of specific conditions can be obtained including tray damage, flooding, tray weeping and foaming. When using FrothView™, you can get a measure of a tray's current capacity.
2. How is a Tru-Scan™ of a Trayed Tower performed?
A Tru-Scan™ measurement is typically performed using a very small (activity) sealed radiation source and a sensitive radiation detector aligned on opposite sides of the column, across the tray active area or through the down comers. The scan is performed while the column is online and operating at normal, test or upset conditions. Any external obstructions are noted to make sure they do not affect the scan interpretation.
3. What information will the Tru-Scan™ results provide?
After a Tru-Scan™ has been completed, the lead crew member will leave a preliminary report with the customer before leaving the plant site. A formal report will be provided soon afterwards. Tru-Scan™ technology is used to evaluate the mechanical integrity and hydraulic performance of trayed columns by measuring froth levels on tray decks, liquid backup in downcomers, and clarity of tray liquid disengagement zones. Damaged or missing trays, plugged downcomers, feed issues, and tray fouling are examples of problems with columns that can be diagnosed with a Tru-Scan™.
The results from a Tru-Scan™ can allow you to: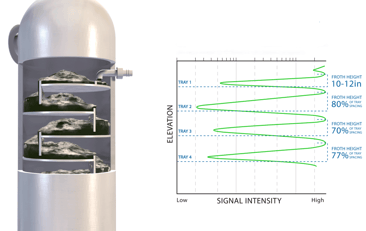 • Detect process issues that might be easily remedied by a change in operating procedures,

• Determine flooding and the exact location and probable cause of the flooding, allowing customers to choose the best course of action to alleviate the problem,
• Monitor and evaluate the performance of chemical washes,

• Detect tray damage providing plant personnel with the confidence to schedule a shutdown to repair or replace trays saving downtime, emergency expenditures and lost production.
---
You can learn more about our FrothView™ technology, and how a Tracerco Tru-Scan™ can enable you to make the right decision by downloading the full list of the questions and answers, or by watching our Trayed Towers animation.