Tracerco Diagnostics™ Flow study and meter proving services
Determine the Volume and Value of Material Lost To The Flare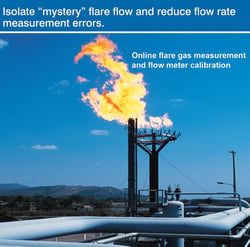 Flare flow measurement is a crucial activity in chemical plants and refineries with loss of process material to the flare costing millions of dollars each year in profits and environmental costs. Tracerco Diagnostics™ Flow studies performed through sections of the flare piping system detect and isolate sources of fugitive flow. Once it is determined which unit(s) are contributing to the flare flow, each valve can be individually tested to determine which is leaking.
This blog will cover a customer case study illustrating how our Tracerco Diagnostics™ Flow studies played a key role in their predictive maintenance and process optimisation and a link to our Tracerco newsletter featuring two additional case studies on our flow study and meter proving services.
Case study project scope – flowrate analysis on multiple units
A US Refinery requested a flowrate analysis to be conducted on various units connecting into their main flare header to determine the overall flow to the flare and specific unit contributions. The study involved several days of data collection using tracer injections into the flare lines and strategically placing sensitive detection devices externally on the piping to monitor the tracer's position and movement. The initial overall average flowrate to the flare was observed to be 900,000 SCFD, substantially higher than the refinery expected.
Flowrate data was collected from each unit sub-header to the main flare header. The data revealed substantial portions coming from four specific tie-ins with the largest contributor being the Crude and SRU/SCOT Tail Gas Units. (Figure 1) Further investigation was carried out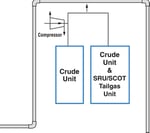 within these units to identify the sources of the flow.
Project Analysis
In this specific refinery, natural gas is added to the flare sub-headers to ensure continuous flow. This is commonly known as sweep gas and can be costly when not regulated properly. Flowrate analysis of the sub-header in the Crude/ SRU/SCOT Tail Gas Units found the sweep gas to be 50,000 SCFD higher than necessary with the cause of the problem found to be a failure to re-install a restriction flow orifice in the sweep gas line following a turnaround.
In addition to the high sweep gas, it was determined that the overall flow from the Crude/SRU/SCOT Tail Gas was 219,000 SCFD that was considered to be abnormally high. After reporting the results to the customer and looking at possible causes for this high flowrate operators closed the nitrogen purge to an offline compressor to examine its contribution to the flare. Subsequent flowrate measurement showed a dramatic decrease of 162,000 SCFD. It was determined that the process valve for the nitrogen purge was open more than necessary to maintain purging of the compressor.
Customer Conclusion
Isolating the source of flare flow resulted in a substantial saving to the plant. The flare study showed that a large portion of the sweep gas flow was being wasted. Reducing this flow resulted in an estimated annual saving of $73,000. In addition to the sweep gas saving, the plant reduced the nitrogen purge to the compressor. At 162,000 SCFD, it was determined that the cost per year to the plant was approximately $473,000. The refinery reduced the nitrogen flow to the compressor by 50-75% resulting in an estimated savings of $237K to $355K.
The measurement of flow around an oil or chemical process is often required where no metering is present to measure flow distribution between main headers and branch headers, or to verify existing flow measurement devices. The use of Tracerco Diagnostics™ Flow study offers a rapid, accurate and cost effective method of determining flows of solid, gas and liquids. The results from such measurements can play a key role in predictive maintenance, process optimization and reduced downtime.
---
Learn more about our Tracerco Diagnostics Flow studies and download full case study
Tracerco's gas meter proving technology is recognized as an independent meter verification for data reported for environmental purposes. A huge advantage is that the service is performed on-line so there is no need to remove the meter for calibration. Read more on our meter proving technology by clicking the link below to download a copy of our Tracerco newsletter.
If you are looking to isolate mystery flare flows, reduce flare flow rate measurement errors or detect blockages within your flare system, Tracerco has the technology that can provide you with all the information you need.
Click here to download a copy of our Tracerco newsletter featuring an article on our flow study technologies.
To schedule an onsite presentation or foradditional information please contact a technical advisor in your area or email tracerco@tracerco.com.
---
Visit our website to subscribe to future issues of Tracerco Insight. https://www.tracerco.com/news-newslettersubscription.asp