Tracerco Insight Vol. 8 Ed. 2 newsletter is now available.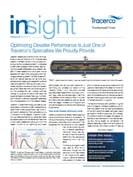 The Tracerco Insight newsletter featuring some of our latest case studies illustrating how Tracerco was able to provide our customers the necessary data that allowed the operations staff to make informed decisions for troubleshooting and optimising their process. Read more to see what's inside the latest issue.
This issue contains the following articles:
Optimizing Desalter Performance Is Just One of Tracerco's Specialties We Proudly Provide.
Crude Vacuum Tower Wash Bed Optimization.
Application Note - ThruVision™
Manage and Control Your Turnaround Costs to Avoid Possible Surprises.
New Product Announcement: PED-ER and PED-ER+
Read more on how to download the latest issue.
Click Here
to download a pdf copy of the Vol 8 Ed 2 issue. To learn more about the technologies Tracerco offers or to schedule an onsite presentation please contact a
technical advisor
in your region.
Click here to download a copy of our Tracerco Diagnostics™ Services for the Refining and Petrochemcial Industries brochure highlighting our Process Diagnostic applications.
---
Visit our website to subscribe to future issues of Tracerco Insight. https://www.tracerco.com/news-newslettersubscription.asp