There are many reasons to attend OTC. Often, the main reason is for oil and gas professionals to learn about industry trends and application of new technologies. They learn through taking in papers written by industry experts and wandering the exhibition floor speaking to exhibitors who are bringing new technologies to solve industry challenges.
Covering everything you want to see can be a challenge. The conference program is packed with papers which run concurrently and the exhibition is so vast at 695,005ft2.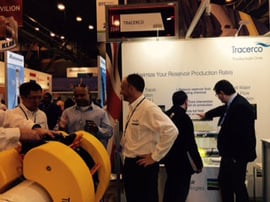 With this limited time and so many interesting developments and trends in the industry, it can be difficult to target the information which could be of valuable benefit and spot the newest technologies among 2,682 exhibitors. It's also hard to have the endurance to stay focused over four days. As OTC is the world's biggest oil and gas exhibition, and hosts arguably the most prestigious industry awards globally – the Spotlight on New Technology Awards, it's a show not to be missed. (This year saw the sixth highest attendance in history at 94,700 delegates from over 130
countries
). But how do you know you didn't miss one of the highlights?
There is one way to ensure you didn't miss any of the highlights in technology and key industry news; online coverage of the show. From presentations of the Spotlight on New Technology Awards, to coverage from industry magazines and on social media, we've collated the online coverage of the highlights of the show to help you get an overview and allow you to learn more about anything you might have missed.
Here's a countdown of five of our favourite resources covering OTC 2015. Watch, read, listen and view them. You'll discovery new technologies and learn about industry trends all from the convenience of your computer or mobile device.
5. Podcast on Top 10 Trends From the OTC Floor
This podcast shared via @oilprocom is brought to you by Tribe Rocket and covers industry observations garnered from attending OTC 2015. It includes comment on the attendance, the proliferation of social media use and the hashtag #OTCHouston, as well as the appetite for new technology. An engaging way to look at how OTC reflects industry attitudes at the moment. You can download the Podcast here or listen below.
4. OTC TV
Mentioned in the podcast above, this year OTC has brought the conference to new media through OTC TV. They have covered all the key events at OTC including the awards dinners and various technical discussions and interviews. If you can't make the show, this is a great way to see what happens at the event.You can view the OTC TV archives here.
3. OTC Show Dailies
The first edition of the show dailies is focussed heavily on the downturn in oil prices and its impact on the industry. There is a feature on the front page by Rhonda Duey noting that tough times don't dampen spirits. There is also a contribution on page 20 from Cindy Taylor, National Ocean Industries Association and Oil States International urging a long term view due to the tough times ahead.
Another interesting piece from Lloyds Register Energy on page 20 discusses the barriers to collaboration in innovation within the industry.
Tuesday's edition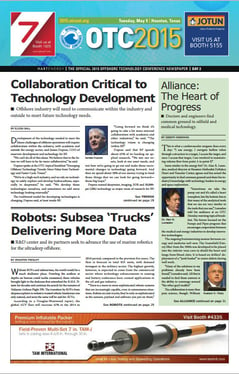 Pages 4 and 5 of this edition includes coverage of the Spotlight on New Technology Awards from the Hart Energy Staff. DiscoveryTM is featured on Page 5 as a Spotlight on New Technology winner. Page 24 featured a contribution from Tracerco covering our new Discover DiscoveryTM campaign, challenging the industry to send us pipe sections for blind test scans with DiscoveryTM. We can perform the scans at any of our state of the art, purpose built subsea test centres, you can sign up here.
Page 24 features a contribution from Tracerco, covering a paper our Director of Reservoir Technologies, Paul Hewitt, Shell's João Baima, production engineer and Murat Kilic, senior production technologist wrote, entitled "Using smart tracers in a reservoir surveillance program." The paper was presented as part of the conference program on the Wednesday morning. Anyone interested in finding out more about this technology can sign up for a lunch and learn or download one of our inflow tracer case studies.
The final edition of the show dailies features contributions from Schlumberger on page 16 covering their engineered spacers to improve zonal isolation and enhance removal of drilling fluids prior to cementing. Keeping with the drilling theme, there is also an interesting feature on a Vacuum-based filtration system which removes solids from the drilling fluid, the aim of which is to maximise reuse of drilling fluids whilst minimising waste. Again a message on improving cost effectiveness. The technology is being offered by Cubility as an alternative to shakers and you can find out more about it on page 23.
2. Spotlight on New Technology Award - yourlisten.com
We were proud recipients of the Spotlight on New Technolgy Award for DiscoveryTM so this was a real highlight of the conference for us. Listen to our recording of Steve Balint, past OTC Chairman and this year's Chair of the Spotlight on New Technology Award Committee explain the criteria at the ceremony.
Upload Music Files - Download Audio - OTC Spotlight on New Technol...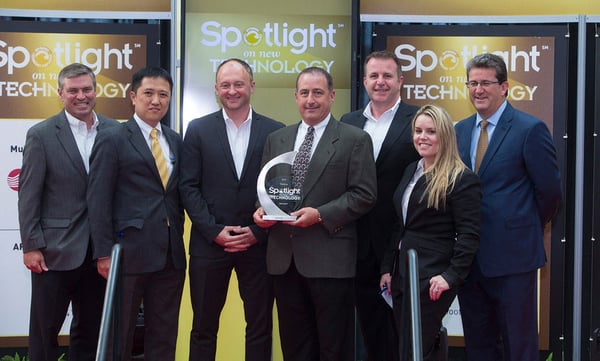 1. Technology Transfer Ideas - The Barrel Blog from Platts
As a result of the current down turn in oil prices there has been an appetite to look at ways of optimising development plans and production. Unsurprisingly, many have linked this to the interest in new technology at the conference.
One of the themes of the conference was looking at technology transfer from other industries, with both the medical and space exploration industries featuring. The tweet below links to a blog from Platts examining the feature at OTC from the medical industry and how cardiovascular surgeons and oil and gas pipeline operators are essentially in the "fluid assurance" business. Tracerco has long drawn comparisons of its technology to the medical industry, in particular, DiscoveryTM as the world's first subsea CT scanner for flow assurance of pipelines and asset integrity.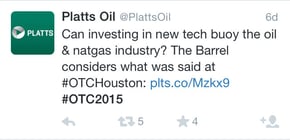 Platts run blog, The Barrel, is a great resource giving an overview of each day and comment on the news and features from the show. They also continued covering the examination of technology transfer which blurred into big data on day 3 of the conference. This time focussing on the input to the conference from NASA - a technical paper entitled "Space Technologies for the Offshore Deepwater Industry." Tracerco has worked with NASA in the past to test DiscoveryTM last year, before deploying it on several pipelines in the Gulf of Mexico.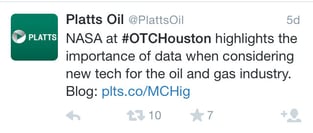 The new for 2015 d5 sessions, held on Friday at the University of Houston invited experts from other industries to talk about their technologies with a view to technology transfer. The tag line being "the next big thing." You can learn more on the OTC website or on OTC TV.
So those are Tracerco's top five resources for learning about the news and technology highlights from OTC 2015. From these you should be able to build up a good picture of what happened, an overview of exciting new technologies and the themes and general industry trends. Which is your favourite resource? Are there any highlights we have missed? Let us know in the comments.