---
Tracerco are exhibiting in two areas at OTC and have a lot of exciting new developments to talk about in Reservoir and Subsea Technologies respectively. Please visit booths 8213 in the NRG Arena or booth 2241L part of the UK pavilion in the NRG center to learn more about these technologies and innovative new developments.
In the mean time we have listed a preview of the top four stories from Tracerco at OTC.
---
1. DiscoveryTM is an OTC Spotlight on New Technology winner
DiscoveryTM has now received its third industry award in the last 12 months. Following success at the 2014 Pipline Industries Guild Awards, winning the most significant contribution to subsea pipeline technology, and the Subsea UK Awards 2015, winning the innovation and technology category, Tracerco is delighted to be one of the chosen recipients of the OTC Spotlight on New Technology Awards 2015.

The technology scans subsea flowlines for asset integrity and flow assurance issues from the outside, online without the need to remove insulation or coatings.
Tracerco will collect the award in a ceremony held at 16:00 on Monday 4th May in Rotunda outside Exhibit Hall B in NRG center. The ceremony is open to all attendees on a first come first served basis.
For the duration of the event a video of the winning technologies including DiscoveryTM will play at the Rotunda area. You can learn more about the winning technology in the post DiscoveryTM named as OTC Spotlight on New Technology winner.
2. Innovative enhancement to our Reservoir Technologies offering
Tracerco has introduced a number of mobile reservoir tracer analysis laboratories for use on site in offshore projects.The aim is to give oil companies rapid sample analysis and therefore the data they need to optimise well strategies and production by reacting quickly to a Tracer Production LogTM (TPL).
One of the biggest limitations of tracer analysis is sending samples back to a single lab from projects around the world. Operators then must wait several weeks for the data they need to make decisions about well strategies. They can also face challenging export restrictions which can be prohibitive to using tracers for flow analysis. Tracerco's new concept offshore laboratories have been introduced to empower their customers to make use of tracer technology and make better informed decisions on strategies such as well interventions therefore boosting productivity.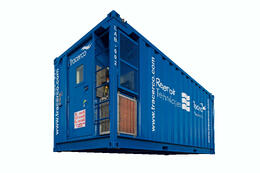 The labs are designed to handle analysis on site for:
There is no compromise on tracer selectivity and sensitivity, as the labs have all the analytical equipment included in Tracerco's shore based facilities. The mobile tracer laboratories are built to the highest safety standards and are fully pressurised and able to integrate with safety systems on the rigs.
3. Exciting new product announcement for Subsea Technologies
Tracerco will be giving details of their latest subsea technology for flow assurance, that enables oil companies to quickly scan many kilometres of pipeline at typical speeds of 100m per hour to detect the location of restrictions.
The unique technology, known as Explorer™, means operators now have a convenient solution to the industry-wide problem of not being able to detect and locate blockages in subsea pipelines.

Explorer™ has been developed for use in conjunction with OTC Spotlight on New Technology 2015 winner, Discovery™, detailed above. Both can be used without the need to remove insulation or coatings. Once the restriction has been identified using ExplorerTM, DiscoveryTM can be used to characterise its precise nature. You can learn more about this process in the blog post how to fully understand flow assurance issues in your subsea pipeline.
4. Shell's highly successful reservoir surveillance program using Tracerco smart tracers is part of the conference program
As part of the conference, on Thursday 6th May, Tracerco's Director of Reservoir Technology, Paul Hewitt, will be co-presenting with João Baima, a Production Engineer at Shell do Brasil Ltd who together with Murat Kilic, Senior Production Technologist are the authors of paper number 26054. The paper will be presented at 11:40 in session 31, room 602 as part of phase 2: Technology Enabling Top Quartile Delivery.

The paper provides an overview of a recent smart tracer surveillance program in one field of the deep water Parques des Conchas which remotely monitored water and oil inflow data. They will discuss:
best practice for inflow and waterflood tracer design;
details of pre-screening tests for selection of the optimal tracer types;
how the tracers were integrated into the screen designs;
the sampling strategy; and
analysis of the results after the beginning of production
---
Tracerco has a lot of exciting innovations and news to share, and would welcome a discussion about any of their technologies. To learn more about any of the topics listed above visit booths 8213 in the NRG Arena or booth 2241L part of the UK pavilion in the NRG center.
Those particularly interested in DiscoveryTM should attend the awards ceremony held at 16:00 on Monday 4th May in Rotunda outside Exhibit Hall B in NRG center. Or, if they have a smartphone or tablet download the Periscope app to watch it live and following the Twitter handle @DiscoverySubsea.
Anyone interested in inflow reservoir characterisation using smart tracers should register to attend the session on Thursday 6th May, presenting paper number 26054 at 11:40 in session 31, room 602 as part of phase 2. You can also follow @res_tracing on Twitter to keep up with the latest updates.
Anyone who can't attend OTC but would like to learn more, can sign up for a reservoir lunch and learn, or a DiscoveryTM lunch and learn.
---